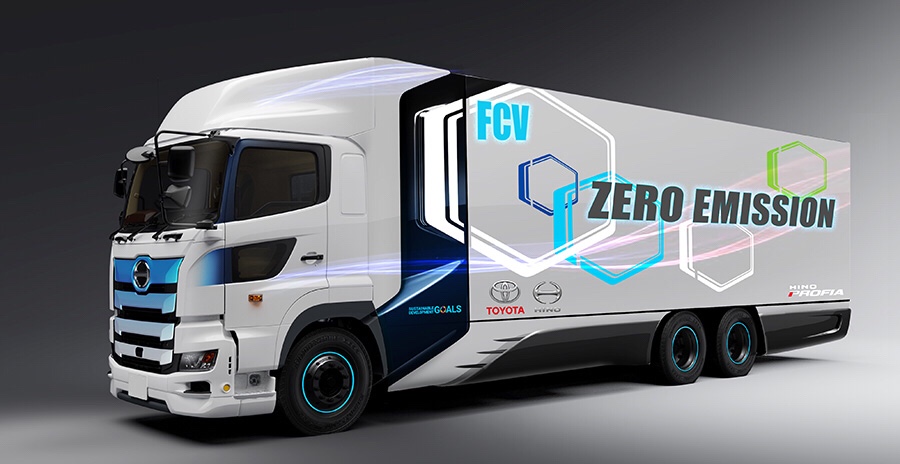 トヨタ:日野、大型燃料電池トラックを開発:based on Hino Profia(動画): 
Toyota and Hino to Jointly Develop Heavy-Duty Fuel Cell Truck: 
丰田和日野将联合开发重型燃料电池卡车
トヨタ自動車/日野自動車
豊田市、2020年3月23日
トヨタと日野が、大型燃料電池トラックを共同開発することで合意しました。
トヨタと日野は、地球環境問題の解決に向け、最重要課題として積極的に取り組んでいきます。
両社はCO2排出量を2050年* 1まで削減するという野心的な目標を宣言。
国内の商用車※2のCO2排出量の約6割を占める大型トラックの環境性能を大幅に改善する必要があります。
The heavy-duty fuel cell truck: in this joint development project
is based on Hino Profia, and is being developed taking maximum advantage of the technologies both Toyota and Hino have cultivated over the years.
The chassis is specially designed with the optimum packaging for a fuel cell vehicle,
and steps are being taken through comprehensive weight reduction to ensure a sufficient load capacity.
The powertrain is equipped with two Toyota fuel cell stacks
that have been newly developed for Toyota's next Mirai and includes vehicle driving control that applies heavy-duty hybrid vehicle technologies, developed by Hino.
Also, cruising range will be set at approximately 600 km,
aiming to meet high standards in both environmental performance and practicality as a commercial vehicle
Corporate | Global Newsroom | Toyota Motor Corporation Official Global Website