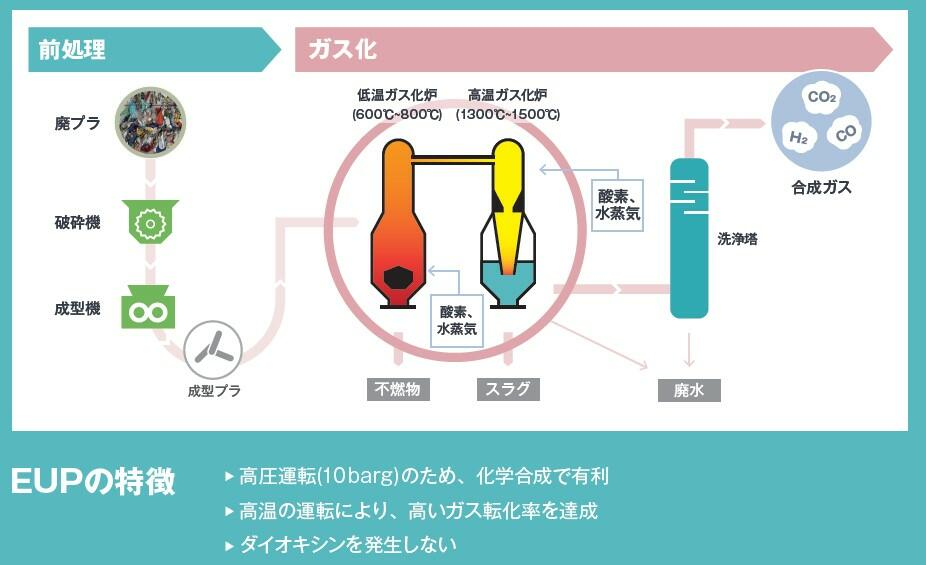 日揮:韓国で廃プラ・ガス化リサイクルへ:事業化調査を実施(動画): 
JGC:Waste plastic gasification recycling in S.Korea: commercial survey:
Nikki:在韩国浪费塑料和气化回收:进行商业化调查
2021/01/18
日揮ホールディングス:
日揮グローバルが、韓国初の廃プラガス化リサイクルプラントの実現に向け、事業化調査業務を受注しました。
廃プラガス化リサイクルプラント:
本プロジェクトは、日揮グローバルが
韓国・十数カ所の廃プラ選別施設から、
リサイクル困難なフィルムやプラを収集し、
EUP※を活用して、廃プラガス化する、
プラントの建設に係る事業化調査を実施するものです。
2021年前半に調査結果をまとめる予定です。
韓国の廃プラ処理事情:
現在、韓国では、
純度が高いプラごみ:
「ペットボトルやポリエチレン、ポリプロピレンなど、純度が高い単一素材のプラスチックごみ」は洗浄処理されています。
不純物を含む残渣プラ:
しかし、「リサイクル異種素材や不純物を含む混合フィルムや残渣プラスチック」は、リサイクルが難しく、現状は埋立て、または焼却されています。
これら資源再利用の仕組みの構築が、韓国での喫緊の課題です。
EUP(Ebara Ube Process):
EUPは、「これまで再利用が難しいとされてきた混合フィルムや残渣プラスチック」を分子レベルに分解することが可能。
資源リサイクルの促進に、大きく寄与します。
ガス化設備から製造される合成ガス:
ケミカル製品の代替原料や、精製処理を行うことで、低炭素水素として活用できます。
この処理方式は、循環型社会のみならず、水素社会の実現にも貢献します。
EUPの概要:
EUP(Ebara Ube Process)は、荏原環境プラントと宇部興産が開発した技術。
廃プラスチックを酸素と蒸気により、
部分酸化することでガス化し、
化学品合成に利用可能な合成ガスを製造するプロセス。
昭和電工の川崎事業所:
2003年から昭和電工川崎事業所において、EUPを採用したガス化設備(廃プラスチックの年間処理量、7万トン)が稼働中。
世界で唯一、ガス化ケミカルリサイクルで、長期商業運転を継続しています。
2021年ニュースリリース | 日揮ホールディングス
https://www.jgc.com/jp/news/2021/20210118.html
ケミカルリサイクル:使用済みプラスチックがEVエネルギーに!
川崎市・昭和電工・日本マクドナルドで「プラスチック資源循環」実証事業開始 |
2020年11月30日
川崎市、
昭和電工、
日本マクドナルド
持続可能な循環型・脱炭素社会の実現に向けた取り組みを実施します。
使用済みプラスチック:
川崎市内のマクドナルド8店舗にて排出された使用済みプラスチックを、川崎臨海部に立地する昭和電工のリサイクル施設で低炭素水素へ再生します。
EVバイクのエネルギーに:
さらに、マクドナルド川崎南加瀬店のマックデリバリーサービスで使用しているEVバイクのエネルギーにリサイクルします。
実証事業を12月1日(火)から開始します。
ニュースリリース | 昭和電工株式会社
https://www.sdk.co.jp/news/2020/39350.html
JGC Receives Order for Feasibility Study toward Realizing South Korea's First Plastic Waste Gasification Recycling Plant
This project
involves carrying out a feasibility study relating to the construction of a plant for achieving plastic waste gasification recycling (with a capacity of several hundred tons a day)
by utilizing EUP*,which JGC Group holds the relicensing right to.
The plastic
will be gathered from plastic waste sorting facilities in a dozen or more locations in South Korea, and will comprise mixed films and the plastics that remain after sorting, which are challenging to recycle.
The results of the feasibility study are scheduled to be compiled by around first quarter of 2021.
Currently in South Korea,
single-material plastic waste with a high degree of purity such as PET bottles, polyethylene and polypropylene
are recycled using cleaning treatments and similar mechanical recycling methods.
However, because of the difficulties in recycling mixed films and residue plastics, which contain a variety of materials and impurities,
they are currently disposed of at landfills or by incineration.
Consequently, building a framework for reusing these resources is a pressing issue within South Korea.
News Releases 2021 | JGC HOLDINGS CORPORATION